Capital markets & securities law & regulation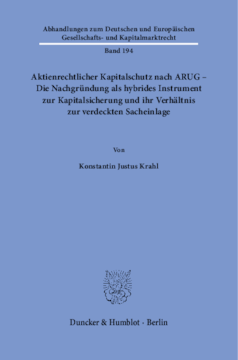 Additional Information
Book Details
ISBN

978-3-428-58408-6
978-3-428-18408-8 (print edition)

DOI

https://doi.org/10.3790/978-3-428-58408-6

Edition

1

Language

German

Pages

306

Collections

Subjects
Pricing
Institution

€ 104.00 (incl. local VAT if applicable)

Individual

€ 79.90 (incl. local VAT if applicable)
About The Author
Konstantin Krahl studierte von 2006 bis 2011 Rechtswissenschaften an der Juristenfakultät der Universität Leipzig. Nach Abschluss der Ersten Juristischen Staatsprüfung war er als wissenschaftlicher Mitarbeiter in einer wirtschaftsberatenden Rechtsanwaltskanzlei tätig. Nach Abschluss seines juristischen Vorbereitungsdienstes am Landgericht Leipzig 2016 arbeitete er zunächst als Rechtsanwalt mit Schwerpunkt im Handels- und Gesellschaftsrecht und ist gegenwärtig als Justiziar im Öffentlichen Dienst tätig.
Konstantin Krahl studied law at the Law Faculty of the University of Leipzig from 2006 to 2011. After completing the first state examination in law, he worked as a research assistant in a business advisory law firm. After having finished his legal clerkship at the Leipzig Regional Court in 2016, he initially worked as a lawyer with a focus on commercial and corporate law and is currently active as a legal advisor in the public service.
Abstract
Obwohl es sich bei der Lehre von der verdeckten Sacheinlage und der Nachgründung um sehr alte Rechtsfiguren des Aktienrechts handelt, kann deren Verhältnis zueinander bis heute als ungeklärt gelten. Nach ARUG 2009 besteht ein Rechtsfolgenkonflikt zwischen der Wirksamkeitsfolge verdeckter Sacheinlagen (§ 27 Abs. 3 AktG) und der Unwirksamkeitsfolge der Nachgründung (§ 52 AktG). Der Autor führt eine (Neu-)Bestimmung des Verhältnisses von verdeckter Sacheinlage und Nachgründung durch. In einer rechtshistorischen Betrachtung untersucht der Autor die Entwicklung beider Rechtsfiguren und wertet die Rechtsprechung des BGH in Sachen Lurgi I, Rheinmöve und Lurgi II aus. Es erfolgt eine dogmatische (Neu-)Bewertung der Nachgründung unter Herausarbeitung der zwei zentralen Normaspekte von § 52 AktG. Sodann geht der Autor auf Einzelfragen der Normanwendung von § 52 AktG ein, entwickelt einen differenzierten Ansatz zur Lösung des Rechtsfolgenkonflikts und unterbreitet einen Vorschlag de lege ferenda.
Table of Contents
Section Title
Page
Action
Price

Vorwort

7

Inhaltsverzeichnis

9

Abkürzungsverzeichnis

21

Einführung

25

I. Grundsätzliches zum aktienrechtlichen Kapitalschutzrecht

25

1. Chancen und Risiken der Haftungsbeschränkung

25

2. Kapitalaufbringungs- und Kapitalerhaltungsgrundsätze im Überblick

26

II. Anlass und Problemstellung

28

III. Ziel und Gang der Untersuchungen

31

Erster Teil: Rechtshistorische Betrachtung von Nachgründung und verdeckter Sacheinlage im Aktienrecht bis ARUG

33

Kapitel 1: Die Entstehung der Nachgründung in Anlehnung an die (Sach-)‌Gründungsvorschriften anno 1884

34

I. Die Aktienrechtsnovelle von 1884

34

1. Abschaffung des Konzessionssystems, Gründerjahre und Gründerkrise

34

2. Konzeption des Aktiengesetzes von 1884

35

3. Die Nachgründungsregelung des Art. 213f ADHGB 1884

36

a) Begründung des Gesetzentwurfs von 1884

36

aa) Unterscheidung zwischen juristischer Existenz und wirtschaftlicher Selbständigkeit

36

bb) Tempus clausum der Kautelarvorschriften

38

cc) "Verhütung von Nachgründungen durch Übernahmen"

39

dd) Nachgründung und Kapitalerhöhung

40

b) Umsetzung in Art. 213f ADHGB 1884

41

c) Vergleich von Sachgründung und Nachgründung anno 1884

41

aa) Nachgründungstatbestand

42

bb) Prüfung durch den Aufsichtsrat

43

cc) Zustimmungserfordernis der Generalversammlung

44

(1) "Konstituierende Generalversammlung" nach Art. 210a ADHGB 1884

44

(2) Übertragung auf die Nachgründungsregelung

46

dd) Einreichung des Erwerbsvertrages zum Handelsregister

47

ee) Gründerverantwortlichkeit

48

ff) Rechtsfolgen bei fehlender Zustimmung der Generalversammlung

49

II. Die Handelsrechtsreform von 1897

49

1. Überleitung der "sog. Nachgründung" und Gesetzesbegründung

50

a) Der Nachgründungstatbestand des § 207 HGB 1897 und sprachliche Änderungen

50

b) Umformulierung der Regelung zum Kapitalquorum, § 207 Abs. 3 HGB 1897

51

c) Haftungsanordnung nach § 208 HGB 1897

52

2. Insbesondere: Umfang der Nachgründungsprüfung

53

a) Sachgründung und obligatorische "Prüfung durch besondere Revisoren"

53

b) Fehlende externe Nachgründungsprüfung

54

III. Bewertung des Regelungskonzepts der Nachgründung

55

1. Konzeptioneller Selbsthilfegedanke von 1884

55

2. Zweijähriges "tempus clausum" als Adoleszenzphase

55

3. Sonderregelung für die spezifische Erwerbssituation

56

4. Relevanz von Vorabsprachen im Rahmen der Gründerverantwortlichkeit

57

Kapitel 2: Die "Lehre von der verdeckten Sacheinlage" als Folge einer unzureichenden Nachgründungsregelung und Kind der Inflationszeit

57

I. Rechtlicher und historischer Kontext der Entscheidung des Reichsgerichts

58

1. Kritik an der Umsetzung – Der Geburtsfehler der Nachgründungsregelung

58

a) Tatbestandliche Begrenztheit des Nachgründungserfordernisses

58

b) Fehlende externe Prüfung durch "besondere Revisoren"

59

c) Fehlende registerrechtliche Kontrolle von Erwerbsvertrag und Generalversammlung

59

d) Zwischenergebnis: Mängel in Qualität und Quantität als Geburtsfehler

60

2. Vermeidungspraxis und Inflationsverkäufe

61

II. Das Reichsgericht und die "Geburt" der Lehre von der verdeckten Sacheinlage

62

1. Sachverhalt: Schrauben- und Mutternfabrik

62

2. Rechtliche Würdigung des Reichsgerichts

63

3. Analyse und Bewertung

64

a) Intention‍(en) des Reichsgerichts

64

b) Rechtsmethodische Lösung des Reichsgerichts

65

c) Folgewirkung und Folgefragen

67

III. Fazit

68

Kapitel 3: Von der Aktienrechtsreform 1937 bis NaStraG 2001 – Nachjustierung, langer Dornröschenschlaf und unverhoffte Renaissance der Nachgründung

70

I. Die Aktienrechtsreform von 1937

70

1. Wandel des aktienrechtlichen Kompetenzgefüges

70

a) Vorstand und "Führerprinzip"

71

b) Aufsichtsrat und sein geändertes Verhältnis zum Vorstand

72

2. Reformen des Gesetzgebers im Bereich der Nachgründung

72

a) Nachgründungsregelung des § 45 AktG 1937

73

b) Nachbesserungen: Handelsregistereintragung und obligatorische Nachgründungsprüfung

74

c) Aufnahme von § 45 Abs. 9 AktG 1937 als direkte Reaktion auf RGZ 121, 99ff.

76

d) Verschärfung der Verantwortlichkeit von Vorstand und Aufsichtsrat nach § 46 AktG

78

3. Bewertung

80

a) Nachgründung und aktienrechtliches Kompetenzgefüge

80

b) Nachgründung und Sachgründung

81

II. Langer Dornröschenschlaf der Nachgründung

82

1. Die Aktienrechtsreform von 1965

82

a) Überleitung der Nachgründung in § 52 AktG 1965

82

b) Exkurs: Abschaffung der Sukzessiv- oder Stufengründung

84

2. Aufnahme der Nachgründungsregelung in Art. 11 Kapitalrichtlinie 1976

85

III. Unverhoffte Renaissance der Nachgründung und das NaStraG 2001

87

1. Wirtschaftlicher und rechtlicher Hintergrund

87

2. Einschränkung des Anwendungsbereichs der Nachgründung durch das NaStraG 2001

87

IV. Fazit

89

Kapitel 4: Die Antwort des Gesetzgebers auf die "Lehre von der verdeckten Sacheinlage" – Vom MoMiG 2008 zum ARUG 2009

90

I. Kritik an den Rechtsfolgen verdeckter Sacheinlagen und Reformüberlegungen

91

II. Die Reaktion des MoMiG-Gesetzgebers

92

1. Von der Erfüllungslösung mit Differenzhaftung zur Anrechnungslösung

92

2. Regelung verdeckter Sacheinlagen in § 19 Abs. 4 GmbHG und Gesetzesbegründung

93

III. Die Reform des Aktienrechts durch das ARUG 2009

94

1. Harmonisierung der Rechtslage im GmbH- und Aktienrecht

94

a) Übertragung der Regelung zur verdeckten Sacheinlage in § 27 Abs. 3 AktG

94

b) Übergangsregelung des § 20 Abs. 7 EGAktG

95

2. Änderungen im Rahmen von § 52 AktG

96

a) Vereinfachte Nachgründung, § 52 Abs. 4, 6 und 7 AktG

96

b) Streichung von § 52 Abs. 10 AktG a.F.

97

3. Bewertung in der Literatur

98

IV. Fazit

99

Kapitel 5: Der jüngste Dreisatz in der höchstrichterlichen Rechtsprechung des Bundesgerichtshofs vor ARUG – Lurgi I, Rheinmöve und Lurgi II

101

I. Die Sachverhalte im Überblick

101

1. Lurgi

101

2. Rheinmöve

102

II. Kernaussagen in Bezug auf verdeckte (gemischte) Sacheinlage und Nachgründung

103

1. Lurgi I

103

a) Anwendbarkeit verdeckter (gemischter) Sacheinlagen auf Sachkapitalerhöhungen

103

b) Keine Verdrängung durch die Nachgründung

105

c) Einheitliche bereicherungsrechtliche Rückabwicklung nach §§ 812ff. BGB unter Anwendung der Saldotheorie

107

aa) Bereicherungsrechtliche Rückabwicklung unwirksamer Nachgründungsgeschäfte

107

bb) Anwendung der Saldotheorie

109

2. Rheinmöve

110

a) (Wieder) keine Relevanz der Nachgründung – Unanwendbarkeit von § 52 AktG auf verdeckte Sachkapitalerhöhungen

110

b) Keine Heilung nach § 52 Abs. 10 AktG (a.F.)

112

3. Lurgi II

113

a) Bestätigung Lurgi I und Rheinmöve

113

b) Einbeziehung des Bareinlageanspruchs in die Saldierung

113

III. Fazit

114

Zweiter Teil: Das Verhältnis von verdeckter Sacheinlage und Nachgründung i.e.S. – Dogmatische Standortbestimmung von § 52 AktG innerhalb des aktienrechtlichen Kapitalschutzsystems nach ARUG

116

Kapitel 6: Versuche einer dogmatischen Verhältnisbestimmung von verdeckter Sacheinlage und Nachgründung in Rechtsprechung und Literatur

117

I. Streit um die Berechtigung der "Lehre von der verdeckten Sacheinlage"

117

1. Mindermeinung: Ablehnung der "Lehre von der verdeckten Sacheinlage"

117

2. Herrschende Meinung: Anerkennung der Grundsätze verdeckter Sacheinlagen

118

3. Stellungnahme

119

II. Herrschende Meinung: Zuordnung der Nachgründung zum Recht der Kapitalaufbringung

121

1. Umgehungsschutz als primärer Regelungszweck der Nachgründung

121

a) Lutter/Gehling – Differenzierung konkreter und abstrakter Umgehungsschutz

121

b) Rechtsprechung des Bundesgerichtshofs vor ARUG

122

2. Sekundärer Normzweck der Nachgründung: Schutz vor Einflussnahme der Gründer

123

3. Stellungnahme

124

a) Einseitige Standortbestimmung von § 52 AktG aus Perspektive verdeckter Sacheinlagen

124

b) Nichtberücksichtigung des Wandels der aktienrechtlichen Kompetenzstruktur 1937

126

c) Weiterer Normzweck als redundante Umschreibung der Gefahrenquelle

127

d) Immanenter Wertungswiderspruch und Grenzen des Erklärungsmodells nach ARUG

128

III. Mindermeinung: Zuordnung der Nachgründung zum Recht der Kapitalerhaltung

129

1. Die These Hachenburgs – Nachgründung als Alternative zur Sachgründung

129

2. Die Untersuchungen von Bröcker und Schwab

131

a) Bröcker – Nachgründung als "vorläufige Kapitalerhaltungskontrolle"

131

b) Schwab – Nachgründung als "vorläufiger, allgemeiner Vermögensschutz"

134

c) Zwischenergebnis

135

3. Stellungnahme

136

a) Historisch bedingtes Fehlverständnis Hachenburgs

136

b) Standortbestimmung von § 52 AktG ebenfalls aus Perspektive verdeckter Sacheinlagen

138

c) Unzutreffende Umgehungsschutzthese von Bröcker und Schwab

138

d) Begrenzter Aussagegehalt der IBH/Lemmerz-Entscheidung

140

e) Bedeutung der Nachgründung für den Kapitalaufbringungsschutz nach ARUG

141

f) Nachgründung und Anlegerschutzrecht

145

IV. Fazit

145

Kapitel 7: Dogmatische (Neu-)‌Bewertung der Nachgründungsregelung – Die Nachgründung als hybrides Instrument zur Kapitalsicherung und ihr Verhältnis i.e.S. zur verdeckten Sacheinlage nach ARUG

147

I. Vorüberlegung

147

1. Nutzen einer dogmatischen Einordnung

147

2. Aufgabe der Zuordnungskriterien Kapitalaufbringung und Kapitalerhaltung

148

II. Die Nachgründung als hybrides Instrument zur Kapitalsicherung

149

1. Normaspekte der Nachgründung

149

a) Kapitalrechtlicher Umgehungsaspekt

150

aa) Rechtshistorischer Hintergrund und Angleichungsbemühungen

150

bb) Nachgründungs- und (Sach-)‌Gründungsverfahren

151

(1) Prüfung

151

(2) Publizität

152

(3) Registerverfahren

152

(4) Haftung

154

cc) Spezifischer Umgehungsschutz für die Nachgründungsphase

155

b) Kompetenzrechtlicher Kontrollaspekt

155

aa) Rechtshistorische Wurzeln – Nachgründung und Sukzessivgründung

156

bb) Verselbständigungstendenzen

156

cc) Nachgründungswille und Kontrollfunktionen der konstituierenden Hauptversammlung

158

2. Zusammenfassung des Normzwecks

160

3. Schutzobjekte der Nachgründung

161

a) Kreis potenzieller Schutzobjekte

161

aa) Aktionäre und Gesellschaftsgläubiger?

161

bb) Aktiengesellschaft und Vorstand?

161

b) (Neu-)‌Bestimmung der Schutzobjekte

162

aa) Kapitalrechtlicher Umgehungsaspekt: unbeteiligte Aktionäre und Gesellschaftsgläubiger

162

bb) Kompetenzrechtlicher Kontrollaspekt: Hauptversammlung als Gesellschaftsorgan

162

c) Zwischenergebnis

164

III. Schlussfolgerung für das Verhältnis von verdeckter Sacheinlage und Nachgründung i.e.S.

164

1. Perspektivwechsel

164

2. Verdeckte Sacheinlage als Teilaspekt der Nachgründungsregelung

165

Kapitel 8: Befund und Ausblick

166

Dritter Teil: Einzelfragen der Normanwendung von § 52 AktG und das Verhältnis der Nachgründung zur verdeckten Sacheinlage i.w.S. nach ARUG

169

Kapitel 9: Der Anwendungsbereich von § 52 AktG vor dem Hintergrund der dogmatischen Neubewertung der Nachgründung

169

I. Originärer Anwendungsbereich der Nachgründung, § 52 Abs. 1 AktG

170

1. Personeller Anwendungsbereich

170

a) Vertrag der Gesellschaft

170

b) Gründer

173

c) Maßgeblich beteiligte Aktionäre und Zurechnung von Beteiligungen

175

d) "Unechte" Dritte

178

2. Sachlicher Anwendungsbereich

180

a) Geschäftsgegenstand

181

b) Vergütung

183

3. Zeitlicher Anwendungsbereich

186

a) Maßgeblicher Zeitpunkt des Geschäftsabschlusses

186

b) Einzelheiten der Fristberechnung

187

c) Sonderfall: Vorrats- oder Mantelgesellschaften

189

II. Ausnahmen vom Anwendungsbereich, § 52 Abs. 9 AktG

190

1. Erwerb im Rahmen der laufenden Geschäfte, § 52 Abs. 9 Var. 1 AktG

190

a) Entwicklung und Intention

191

b) Auslegung in der Literatur

191

c) Stellungnahme

193

2. Zwangsvollstreckung, § 52 Abs. 9 Var. 2 AktG

196

a) Entwicklung und Intention

196

b) Tatbestand

197

c) Weitere Ausnahmefälle

198

aa) Pfandverkauf nach § 1233 Abs. 2 BGB

198

bb) Erwerb im Insolvenzverfahren nach §§ 165f., 173 InsO

200

(1) Verwertung unbeweglicher und beweglicher Gegenstände durch den Insolvenzverwalter, §§ 165, 166 Abs. 1 InsO

200

(2) Verwertung beweglicher Gegenstände und Forderungen durch den Gläubiger, § 173 InsO

202

cc) Versteigerung zur Aufhebung einer Gemeinschaft nach § 753 BGB

204

3. Erwerb an der Börse, § 52 Abs. 9 Var. 3 AktG

205

III. Anwendbarkeit der Nachgründung auf Sachkapitalerhöhungen nach ARUG

207

1. Anwendbarkeit von § 52 AktG auf offengelegte Sachkapitalerhöhungen

208

a) Herrschende Literaturmeinung

208

b) Gegenansicht

208

c) Stellungnahme

209

2. Anwendbarkeit von § 52 AktG auf verdeckte Sachkapitalerhöhungen

210

a) BGH: Rheinmöve – Unanwendbarkeit von § 52 AktG vor ARUG

210

b) Stellungnahme

210

aa) Unvollständige dogmatische Perspektive

210

bb) Doppelter Wertungswiderspruch nach ARUG

211

(1) Verdeckte Sachgründung und verdeckte Sachkapitalerhöhung

211

(2) Offene und verdeckte Sachkapitalerhöhung

212

c) Zwischenergebnis

213

3. Exkurs: Maßgeblicher Beurteilungszeitpunkt zur Bestimmung der Kapitalbeteiligung

213

IV. Fazit

214

Kapitel 10: Rechtsfolgen von verdeckten Sacheinlagen und Verstößen gegen das Nachgründungserfordernis – Der Rechtsfolgenkonflikt nach ARUG

215

I. Die Rechtsfolgen von verdeckter Sacheinlage und Nachgründung nach ARUG

216

1. Rechtsfolgen verdeckter Sacheinlagen, § 27 Abs. 3 Sätze 2 bis 5 AktG

216

a) Wirksamkeitsanordnung, § 27 Abs. 3 Satz 2 AktG

216

b) Anrechnungslösung, § 27 Abs. 3 Sätze 3 bis 5 AktG

216

aa) Vereinbarkeit mit den Vorgaben der Kapitalrichtlinie und Sanktionsgefälle

217

(1) Bedeutung der unionsrechtlichen Regelungen und Effektivitätsprinzip

217

(2) Gesetzesbegründung und Beurteilung im Schrifttum

217

(3) Stellungnahme

219

bb) Dogmatik und Rechtsnatur

219

(1) Überblick über das Meinungsspektrum

220

(2) Stellungnahme

221

2. Rechtsfolgen von Verstößen gegen die Nachgründungsvorschriften des § 52 AktG

222

a) Einzelheiten der Rechtsfolgenseite

222

aa) Schwebende Unwirksamkeit, § 52 Abs. 1 AktG

222

bb) Bindung der Vertragspartner – Widerrufsrecht nach § 178 BGB?

223

cc) Ablauf der Zweijahresfrist – Beiderseitige Bestätigung und/oder einseitige Genehmigung?

224

b) Rechtsfolgen einzelner Verfahrensfehler

226

aa) Verstöße gegen das Schriftformerfordernis, § 52 Abs. 2 Satz 1 AktG

226

bb) Fehler bei der Aktionärsinformation, § 52 Abs. 2 Sätze 2 bis 6 AktG

226

cc) Verstöße gegen Prüfungs- und Berichtserfordernisse, § 52 Abs. 3 und 4 AktG

226

dd) Verstöße gegen das Zustimmungs- und Eintragungserfordernis, § 52 Abs. 5 und 6 AktG

228

3. Zwischenergebnis zu den Voraussetzungen des Rechtsfolgenkonflikts

228

a) Schnittmengen im Anwendungsbereich der §§ 27 Abs. 3, 52 Abs. 1 AktG

228

b) Wirksamkeit vs. (schwebende) Unwirksamkeit

229

II. Lösung des Rechtsfolgenkonflikts

230

1. Anwendungsbereichsbezogene Lösungen

230

a) Teleologische Reduktion des § 27 Abs. 3 AktG

230

aa) BGH vor ARUG: Keine Verdrängung

231

bb) Keine "verdeckte" Gesetzeslücke

231

b) Teleologische Reduktion oder Extension des § 52 AktG

233

aa) Unvereinbarkeit mit Gesetzesbegründung und Art. 11 KapRL

233

bb) Anreiz für nachträgliche Manipulationen?

234

2. Konkurrenzlösung der herrschenden Literaturmeinung

234

a) Der Ansatz von Herrler/Reymann und Lieder

235

b) Stellungnahme

236

aa) Unzutreffender dogmatischer Ausgangspunkt

236

bb) Wille des ARUG-Gesetzgebers

237

cc) Tendenz des BGH?

238

dd) Faktische Reduktion des Anwendungsbereichs von § 27 Abs. 3 AktG auf Fälle außerhalb von § 52 Abs. 1 AktG

238

3. Eigener Lösungsvorschlag: Modifizierte Konkurrenzlösung

239

a) Differenzierungsmaßstab

239

b) Differenzierungsmodalitäten

240

aa) Wert des Vermögensgegenstands ≥ Bareinlageverpflichtung

240

bb) Wert des Vermögensgegenstands < Bareinlageverpflichtung

241

c) Rechtsmethodische Einordnung

241

d) Europarechtskonformität – Vereinbarkeit mit Art. 11 KapRL

242

aa) Auslegung von Art. 11 KapRL

243

bb) Richtlinienkonforme Auslegung von § 52 AktG

244

III. Rückabwicklung unwirksamer Nachgründungsgeschäfte nach ARUG

245

1. Vorüberlegungen

246

2. Bereicherungsrechtliche Rückabwicklung nach §§ 812ff. BGB

247

3. Aktienrechtlicher Rückgewähranspruch nach § 62 AktG

249

4. Stellungnahme

250

a) Ursprung und Übertragung des Vereinheitlichungsgedankens

250

b) Geänderte Ausgangslage und Fehlgehen der dogmatischen Argumentation

252

c) Wegfall des Bedürfnisses einer Saldierung gegenseitiger Ansprüche nach ARUG

253

d) Anwendung von § 62 AktG als notwendiges Gegenstück der Wertanrechnung

254

IV. Fazit

255

Kapitel 11: Heilung verdeckter Sacheinlagen nach ARUG – Relevanz der Nachgründung?

257

I. Rückblick: Heilungsproblematik vor ARUG

257

1. Heilung vor der Eintragung

258

2. Heilung nach der Eintragung

258

a) Herrschende Meinung: Heilung analog § 52 AktG

259

b) Gegenauffassung: Heilung nach Grundsätzen des BGH zum GmbH-Recht

260

c) Andere Ansicht: Neuvornahme i.R.v. § 52 AktG ohne Wirkung auf die Einlageverpflichtung

261

d) BGH-Rheinmöve

262

3. Stellungnahme

262

II. "Heilung" verdeckter Sacheinlagen nach ARUG

263

1. Heilungsverfahren in Anlehnung an das GmbH-Recht – keine Relevanz von § 52 AktG

263

2. Rechtspolitische und -dogmatische Kritik

265

3. Stellungnahme

265

a) Grundsatzkritik und Ergebnis de lege lata

265

aa) Gegenstand und Umfang der "Heilung" nach ARUG

266

bb) Zirkelschluss des Gesetzgebers

267

cc) Zwischenergebnis de lege lata

268

b) Heilung verdeckter Sacheinlagen nach ARUG – ergänzende Heranziehung von § 52 AktG

268

aa) Hauptversammlungsbeschluss mit satzungsändernder Mehrheit

268

bb) Nachholung der Werthaltigkeitskontrolle gemäß §§ 33ff. AktG

271

cc) Anmeldung zum Handelsregister

272

c) Heilungsproblematik bei Kollision von verdeckter Sacheinlage und Nachgründung

273

aa) Vorfrage: Lösung des Rechtsfolgenkonflikts nach ARUG

274

bb) Durchschlagen der Unwirksamkeitsfolge und "Heilung"

274

cc) Nachgründungsverfahren gemäß § 52 AktG

275

III. Fazit

276

Kapitel 12: Regelungsvorschlag de lege ferenda und Ausblick

277

I. Regelungsvorschlag de lege ferenda zu Art. 11 Abs. 2 KapRL

277

1. Ermittlung des Anpassungsbedarfs

278

2. Regelungsvorschlag zu Art. 11 Abs. 2 KapRL und Erläuterungen

278

II. Regelungsvorschlag de lege ferenda zu § 52 AktG

279

1. Anpassungsbedarf an die Vorgaben von Art. 11 KapRL

279

2. Bedarf einer gesetzlichen Regelung zum Rechtsfolgenkonflikt

280

3. Regelungsvorschlag zu § 52 AktG und Erläuterungen

280

a) Anpassung von § 52 Abs. 1 Satz 1 AktG

281

b) Ergänzung und Einschränkung von § 52 Abs. 9 AktG

281

c) Einfügung von § 52 Abs. 10 AktG

282

III. Ausblick

283

Thesenförmige Zusammenfassung

285

Nr. 1

285

Nr. 2

285

Nr. 3

285

Nr. 4

286

Nr. 5

286

Nr. 6

286

Nr. 7

286

Nr. 8

286

Nr. 9

287

Nr. 10

287

Nr. 11

287

Nr. 12

287

Nr. 13

288

Nr. 14

288

Nr. 15

288

Nr. 16

288

Nr. 17

289

Nr. 18

289

Nr. 19

289

Nr. 20

289

Nr. 21

289

Nr. 22

290

Nr. 23

290

Nr. 24

290

Nr. 25

290

Nr. 26

290

Nr. 27

291

Nr. 28

291

Nr. 29

291

Nr. 30

291

Nr. 31

292

Nr. 32

292

Nr. 33

292

Nr. 34

292

Nr. 35

293

Nr. 36

293

Nr. 37

293

Nr. 38

293

Nr. 39

293

Nr. 40

294

Nr. 41

294

Nr. 42

294

Nr. 43

295

Nr. 44

295

Nr. 45

295

Nr. 46

295

Nr. 47

296

Nr. 48

296

Nr. 49

296

Nr. 50

297

Literaturverzeichnis

298

Kommentare/Handbücher/Monografien

298

Zeitschriften/Aufsätze

300

Sachverzeichnis

304