Company law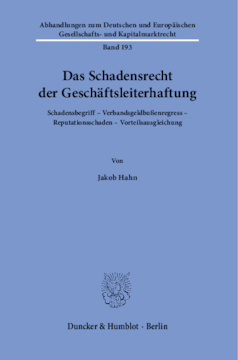 Additional Information
Book Details
ISBN

978-3-428-58451-2
978-3-428-18451-4 (print edition)

DOI

https://doi.org/10.3790/978-3-428-58451-2

Edition

1

Language

German

Pages

334

Collections

Subjects
Pricing
Institution

€ 104.00 (incl. local VAT if applicable)

Individual

€ 79.90 (incl. local VAT if applicable)
About The Author
Jakob Hahn studierte Rechtswissenschaft an der Bucerius Law School, Hamburg, und der Stanford Law School, USA. Die Erste Juristische Prüfung legte er im Jahr 2015 ab. Im Anschluss arbeitete er als wissenschaftlicher Assistent am Max-Planck-Institut für ausländisches und internationales Privatrecht in Hamburg. Nach dem Rechtsreferendariat am Hanseatischen Oberlandesgericht in Hamburg absolvierte er 2020 die Zweite Juristische Staatsprüfung. 2021 wurde er von der Bucerius Law School promoviert. Seit Anfang 2021 ist er als Richter im Dienst des Freistaats Sachsen tätig.
Jakob Hahn studied law at Bucerius Law School, Hamburg, and Stanford Law School, USA. In 2015 he passed the first state law examination. He subsequently worked as a research associate at the Max Planck Institute for Comparative and International Private Law in Hamburg. After completing is legal clerkship at the Hanseatic Higher Regional Court in Hamburg, he sat for the second state law examination in 2020. He received a doctoral degree from Bucerius Law School in 2021. Since early 2021 he has served as a judge for the Free State of Saxony.
Abstract
In der Debatte um die Haftung von Geschäftsleitern in der Kapitalgesellschaft liegt der Fokus auf den Tatbestandsvoraussetzungen. Die Rechtsfolgen werden demgegenüber vernachlässigt. Die Arbeit schließt diese Forschungslücke, indem sie ein Schadensrecht der Geschäftsleiterhaftung entwirft. Dazu beleuchtet sie vier Problemkomplexe näher: Schadensbegriff, Verbandsgeldbußenregress, Reputationsschaden und Vorteilsausgleichung. Die Diskussion wird bei allen Fragestellungen an das allgemeine Zivilrecht rückangeknüpft und aufgezeigt, wo die Zivilrechtsdogmatik Impulse für den gesellschaftsrechtlichen Diskurs bietet. Dabei zeigt sich, dass sich die gesellschaftsrechtliche Diskussion häufig vorschnell vermeintlichen dogmatischen Zwängen unterwirft. Als Besonderheiten der Geschäftsleiterhaftung stellen sich einerseits der Charakter der Binnenhaftung heraus und anderseits die Beweislastverteilung, deren Zweck nicht durch überspannte Anforderungen an den ersatzfähigen Schaden vereitelt werden darf. »The Liability of Managing Directors. Damages, Corporate Fines, Reputational Damages and Adjustment of Profits«: The dissertation addresses the remedies for the liability of managing directors vis-à-vis the corporation. In so doing it examines the definition of the term »damage«, the liability for corporate fines, reputational damages and the adjustment of profits. The discussion is linked back to general private law principles, spotlighting those notions that further corporate law discourse and the special features which distinguish the liability of managing directors.
Table of Contents
Section Title
Page
Action
Price

Vorwort

7

Inhaltsverzeichnis

13

Abkürzungsverzeichnis

24

Einleitung

27

A. Fragestellung

27

I. Anlass

27

II. Zielsetzung

28

III. Eingrenzung

29

B. Gang der Untersuchung

30

C. Terminologie

31

1. Teil: Binnenhaftung des Geschäftsleiters

33

A. Materielle Voraussetzungen

33

I. Passivlegitimation

33

1. Persönlicher Anwendungsbereich

34

a) Bestellter Geschäftsleiter

34

b) Faktischer Geschäftsleiter

35

2. Zeitlicher Anwendungsbereich

36

II. Pflichtverletzung

36

1. Sorgfaltspflicht im engeren Sinne

36

2. Legalitätspflicht

37

a) Interne Pflichtenbindung

37

b) Externe Pflichtenbindung

38

aa) Gegenstand

38

bb) Vorrang vor Nützlichkeitserwägungen

40

3. Compliancepflicht

41

4. Treuepflicht

43

III. Business Judgement Rule

44

1. Legitimation

45

a) Eigenart unternehmerischer Betätigung

45

b) Vermeidung risikoaversen Verhaltens

46

c) Vermeidung des richterlichen Rückschaufehlers

46

2. Tatbestandsvoraussetzungen

47

a) Unternehmerische Entscheidung

47

b) Auf Grundlage angemessener Information

48

c) Handeln zum Wohle der Gesellschaft

48

d) Freiheit von Sonderinteressen und sachfremden Einflüssen

49

e) Gutgläubigkeit

49

IV. Verschulden

49

V. Disponibilität

50

1. Haftungsausschluss und -beschränkung

50

a) AG

50

b) GmbH

51

2. Verzicht und Vergleich

52

a) AG

52

b) GmbH

52

VI. Sondertatbestände

52

1. Inhalt

53

2. Relevanz

53

B. Prozessuale Durchsetzung

54

I. Darlegungs- und Beweislast

54

1. Gesellschaft

54

2. Geschäftsleiter

55

II. Geltendmachung

56

1. Stellvertretung

56

a) AG

56

b) GmbH

56

2. Gesetzliche Prozessstandschaft

57

a) Gesellschafter

57

aa) AG

57

bb) GmbH

58

b) Insolvenzverwalter

58

3. Aktivlegitimation der Gläubiger

59

III. Verjährung

59

C. Haftungszweck

60

I. Zweckpluralität

60

1. Kompensation

60

a) Naturalrestitution und Geldersatz

60

b) Folgerungen für das Schadensrecht

61

aa) Totalreparation

61

bb) Bereicherungsverbot

63

2. Prävention

64

a) Prävention durch allgemeines Haftungs- und Schadensrecht

64

aa) Legitimität

65

bb) Verhältnis zum Kompensationszweck

66

b) Prävention durch Geschäftsleiterhaftung

67

aa) Gegenstand

68

bb) Verhältnis zum Kompensationszweck

68

3. Strafe?

70

a) Rechtsgeschichte: Privatstrafe

70

b) Rechtsvergleichung: punitive damages

71

c) Kongruenz von Straf- und Haftungszwecken

73

II. Geschützter Personenkreis

73

1. Gesellschaft und Gesellschafter

73

2. Gläubiger

74

III. Rechtsökonomie

75

1. Agenturproblem

75

a) Gefahr opportunistischen Verhaltens

76

b) Asymmetrische Risikoeinstellungen

78

2. D&O-Versicherung

79

a) Rechtliche Ausgestaltung

79

b) Auswirkungen auf die Anreizstruktur

80

IV. Zwischenergebnis

81

D. Verwandte Rechtsfolgen

82

I. Zivilrecht

82

1. Binnenverhältnis

82

a) Sonstige Binnenhaftungstatbestände

82

b) Abberufung

83

c) Außerordentliche Kündigung des Anstellungsvertrags

83

2. Außenverhältnis

84

a) Verschulden bei Vertragsschluss

84

aa) Wirtschaftliches Eigeninteresse

85

bb) Inanspruchnahme besonderen persönlichen Vertrauens

85

b) Unerlaubte Handlung

85

aa) § 823 Abs. 1 BGB

85

bb) § 823 Abs. 2 BGB

87

cc) § 826 BGB

87

c) Organhaftung (§ 31 BGB)

88

II. Öffentliches Recht

89

1. Bußgeld

89

2. Außenhaftung

90

3. Abberufungsverlangen

90

III. Strafrecht

90

2. Teil: Schaden bei der Geschäftsleiterhaftung

92

A. Schadensbegriff der Geschäftsleiterhaftung

92

I. Schadensbegriff des Bürgerlichen Rechts

92

1. Differenzhypothese

93

a) Ursprung

93

b) Adaption

94

aa) Bürgerliches Gesetzbuch

94

bb) Lehre und Rechtsprechung

96

c) Durchbrechungen

97

aa) Hypothetischer Kausalverlauf

97

bb) Vorhaltekosten

99

cc) Merkantiler Minderwert

101

dd) Abstrakte Schadensberechnung

102

ee) Zwischenfazit

103

d) Kritik

103

e) Modifikation

104

2. Natürlicher Schadensbegriff

106

a) Aussagegehalt

106

b) Kritik

107

3. Normativer Schadensbegriff

109

a) Aussagegehalt

109

aa) Gegensatz zum natürlichen Schadensbegriff

109

bb) Gegensatz zur Differenzhypothese

110

cc) Gegensatz zur Subjektbezogenheit

110

b) Kritik

111

4. Verzicht auf einen einheitlichen Schadensbegriff

112

5. Zwischenfazit

113

II. Schadensbegriff der Geschäftsleiterhaftung

114

1. Subjektiver Schadensbegriff

114

a) Subjektiver Schadensbegriff nach Mertens

114

aa) Bürgerliches Recht

114

bb) Geschäftsleiterhaftung

115

b) Rezeption

116

aa) Literatur

116

bb) Rechtsprechung

117

c) Kritik

117

aa) Fehlende Leistungsfähigkeit

117

bb) Begriffliche Unschärfe

117

cc) Vermengung von Tatbestand und Rechtsfolge

118

dd) Verschiebung der Darlegungs- und Beweislast

119

d) Stellungnahme

119

2. Zweigliedriger Schadensbegriff

121

a) Zweigliedriger Schadensbegriff nach Mertens und Cahn

121

b) Stellungnahme

122

III. Zwischenergebnis

123

B. Ersatzfähigkeit von Verbandsgeldbußen

124

I. Recht der Verbandsgeldbußen

125

1. Rechtsgrundlagen

125

a) Deutsches Recht

125

aa) Tatbestand

126

bb) Rechtsfolge

127

b) Unionsrecht

128

aa) Tatbestand

128

bb) Rechtsfolge

128

2. Zweck

129

a) Repression

129

b) Prävention

130

c) Effizienz

130

II. Schutzzweck der Geschäftsleiterhaftung

130

1. Öffentlich-rechtliches Präjudiz

131

a) Einheit der Rechtsordnung

131

aa) Normwiderspruch

133

bb) Wertungswiderspruch

133

b) Höchstpersönlichkeit der Sanktion

134

aa) Deutsches Recht

134

bb) Unionsrecht

136

2. Zweckvereitelung

137

a) Repression

138

aa) Nachteilszufügung

138

bb) Vorteilsabschöpfung

140

b) Prävention

141

c) Effizienz

142

d) Zwischenfazit

143

3. Existenzvernichtung

143

a) Allgemeines Haftungsrisiko

144

b) Mittelbare Drittwirkung der Grundrechte

145

4. Rechtsvergleichung

146

a) England und Wales

146

aa) Ex turpi causa non oritur actio

146

bb) Transfer

149

b) Österreich

150

aa) Regressausschluss nach § 11 VbVG

150

bb) Transfer

152

5. Zwischenfazit

152

III. Wertungsparallelen

153

1. Bezahlung einer Geldstrafe durch Dritte

153

a) Rechtsprechung: Keine Vollstreckungsvereitelung

153

b) Lehren für den Verbandsgeldbußenregress

154

2. Beraterhaftung für Geldbußen

156

a) Rechtsprechung: Bußgeldregress

156

b) Lehren für den Verbandsgeldbußenregress

157

3. Rechtsgeschäftliche Zusagen zur Übernahme von Geldbußen

160

a) Rechtsprechung: Sittenwidrigkeit

160

b) Lehren für den Verbandsgeldbußenregress

161

IV. Zwischenergebnis

161

C. Ersatzfähigkeit des Reputationsschadens

162

I. Reputation und Reputationsschaden

163

1. Grundlagen der ökonomischen Reputationstheorie

163

a) Ausgangspunkt: Agenturproblem

164

b) Funktionen der Reputation

165

aa) Signal

165

bb) Reputational capital

167

cc) Reputational penalty

167

2. Reputationsdefinition

168

a) Meinungsstand

169

b) Abgrenzung

170

aa) Image

170

bb) Status

171

cc) Stigma

171

dd) Marke

172

ee) Goodwill

172

c) Stellungnahme

174

3. Bemessung des Reputationsschadens

175

a) Umfragebasierte Bemessung

175

aa) Forschungsstand

175

bb) Kritik

176

b) Börsenpreisbasierte Bemessung

177

aa) Forschungsstand

177

bb) Kritik

178

c) Bilanzielle Bemessung

179

d) Zwischenfazit

179

4. Implikationen für die Geschäftsleiterhaftung

179

a) Rechtliche Relevanz der ökonomischen Reputationstheorie

180

b) Reputation und Geschäftsleiterpflichten

180

aa) Geschäftsleiterermessen

180

bb) Pflichtverletzung

181

c) Reputations- und Reputationsfolgeschaden

183

aa) Abgrenzung

183

bb) Ersatzfähigkeit des Reputationsfolgeschadens

183

5. Zwischenfazit

185

II. Naturalrestitution

186

1. Berichtigung

186

2. Werbung

187

3. Verhaltensänderung

188

4. Zwischenfazit

188

III. Geldentschädigung: Vermögensschaden

189

1. Kommerzialisierungsthese

189

a) Aussagegehalt

189

b) Anwendung

190

2. Hypothetische Kommerzialisierbarkeit

192

3. Frustrationsthese

193

4. Kontrollüberlegungen

194

a) Allgemeines Persönlichkeitsrecht natürlicher Personen

194

b) Kreditgefährdung (§ 824 Abs. 1 BGB)

195

c) Reputational capital

195

d) Geschäfts- oder Firmenwert

195

e) Telos des § 253 Abs. 1 BGB

196

5. Zwischenfazit

196

IV. Geldentschädigung: Nichtvermögensschaden

196

1. Rechtsfortbildung zur Verletzung des allgemeinen Persönlichkeitsrechts natürlicher Personen

197

a) Legitimation der Rechtsfortbildung

197

b) Funktionen der Geldentschädigung

199

c) Voraussetzungen der Geldentschädigung

200

2. Rechtsfortbildung zur Binnenhaftung des Geschäftsleiters für Reputationsschäden

200

a) Mittelbare Drittwirkung der Grundrechte

200

aa) Allgemeines Persönlichkeitsrecht

201

bb) Wirtschaftsgrundrechte

203

cc) Grundrechtskonkurrenzen

204

dd) Stellungnahme

204

b) Rechtsvergleichung

205

aa) Vereinigte Staaten

205

bb) Vereinigtes Königreich

207

cc) Stellungnahme

208

c) Genugtuung

208

aa) Originäres Genugtuungsbedürfnis

209

bb) Derivatives Genugtuungsbedürfnis

211

d) Prävention

212

3. Zwischenfazit

212

V. Zwischenergebnis

213

3. Teil: Vorteilsausgleichung bei der Geschäftsleiterhaftung

215

A. Vorteilsausgleichung im allgemeinen Schadensrecht

215

I. Grundlagen

215

1. Geltungsgrund

216

a) Differenzhypothese

216

b) Bereicherungsverbot

217

c) Treu und Glauben

218

d) Zwischenfazit

218

2. Vorteil

219

3. Abgrenzung zur Schadensentstehung

219

II. Voraussetzungen

220

1. Rechtsprechung

220

a) Reichsgericht

220

aa) Adäquate Kausalität

220

bb) Kritik

221

b) BGH

221

aa) Sinn und Zweck der Ersatzpflicht

221

bb) Kritik

222

2. Lehre

223

a) Förderung des verletzten Rechts

223

b) Innerer Zusammenhang

223

c) Sorge, Glücksteilhabe, Würdigkeit

224

d) Exklusivität gesetzlicher Wertungen

225

3. Zwischenfazit

225

III. Fallgruppen

226

1. Gesetzliche Determinanten

226

a) Positives Recht

226

b) Legalzession

226

c) Abtretung von Ersatzansprüchen (§ 255 BGB)

227

2. Vorteile durch Leistung des Geschädigten

227

3. Vorteile durch Leistung Dritter

228

a) Freiwillige Leistungen

228

b) Leistungen aufgrund einer Rechtspflicht

228

4. Vorteile ohne Zutun des Geschädigten oder Dritter

229

IV. Regel-Ausnahme-Verhältnis

229

1. Meinungsstand

229

a) Regelfall der Anrechnung

230

b) Grundsatz der Nichtanrechnung

230

c) Kein Regel-Ausnahme-Verhältnis

230

2. Stellungnahme

231

V. Zwischenergebnis

231

B. Verletzung der externen Pflichtenbindung

232

I. Schadensrechtliche Qualität der Gewinnabschöpfung

233

1. Meinungsstand

234

a) Kein Schaden durch Gewinnabschöpfung

234

b) Vorabsaldierung im Wege der Vorteilsausgleichung

235

2. Stellungnahme

235

a) Gewinnabschöpfung begründet Schaden

235

b) Keine Vorabsaldierung

237

3. Zwischenfazit

238

II. Wertende Schadensbetrachtung: Allgemeines

238

1. Keine Erkenntnisse aus der Rechtsprechungsformel

239

a) Zurechnungszusammenhang

239

b) Sinn und Zweck des Schadensersatzanspruchs

240

2. Keine gesetzliche Determinante

241

3. Keine Einordnung in die anerkannten Fallgruppen

242

4. Zwischenfazit

243

III. Wertende Schadensbetrachtung: Spezifika der Geschäftsleiterhaftung

244

1. Wertungskongruenzen

244

a) Nichtanerkennung der efficient breach of public law-Doktrin

244

b) Kartellrechtliche passing-on defence

245

c) Wirtschaftsstrafrecht

246

2. Präventionszweck der Geschäftsleiterhaftung

247

a) Generelle Versagung

247

aa) Dogmatische Einwände

248

bb) Relevanz von Präventionszweck und öffentlichem Interesse

249

cc) Wahrung des Präventionszwecks

249

dd) Förderung risikoaversen Verhaltens

250

b) Partielle Versagung

251

aa) Sanktionierung des Geschäftsleiters durch Strafrecht oder Bußgeld

251

bb) Qualifiziertes öffentliches Interesse

251

cc) Schwere von Pflichtverletzung und Verschulden

252

c) Zwischenfazit

253

3. Gläubigerschutz

253

4. Perpetuierung des Sanktionszwecks der verletzten Norm

254

IV. Zwischenfazit

256

C. Verletzung der internen Pflichtenbindung

257

I. Subjektiv wertlose Gegenleistung

258

1. Rechtsprechung zum Personengesellschaftsrecht

259

2. Straf- und zivilrechtliche Vorbilder für eine subjektive Wertbestimmung

259

a) Lehre vom individuellen Schadenseinschlag im Betrugsstrafrecht

259

b) Subjektive Schadensbestimmung im Zivilrecht

260

3. Stellungnahme

261

4. Zwischenfazit

262

II. Schutz der Kompetenzordnung

262

1. Meinungsstand

262

a) Obergerichtliche Rechtsprechung

262

b) Lehre

263

2. Stellungnahme

264

3. Zwischenfazit

265

III. Saldierung mehrerer pflichtwidriger Geschäfte

265

1. Vorteilsausgleichung bei Handlungseinheit

267

a) Voraussetzungen einer Handlungseinheit

267

b) Handlungseinheit bei der Geschäftsleiterhaftung

268

2. Vorteilsausgleichung bei Handlungsmehrheit

269

a) Unmittelbare Anwendung der Vorteilsausgleichung

269

b) Entsprechende Anwendung der Vorteilsausgleichung

270

aa) Bereicherungsverbot

270

bb) Verbot widersprüchlichen Verhaltens

271

cc) Parallele zur Geschäftsführung ohne Auftrag

272

dd) Windfall profit und Hin- und Herzahlen

273

ee) Rechtsprechung des XI. Zivilsenats

273

c) Zwischenfazit

274

3. Saldierung aufgrund von Treu und Glauben

274

4. Zwischenfazit

275

D. Verletzung der Sondertatbestände

275

I. Meinungsstand

276

1. Besonderer Schadensbegriff

276

2. Verschuldensunabhängiger Folgenbeseitigungsanspruch

278

II. Stellungnahme

279

III. Zwischenfazit

280

Zusammenfassung und Thesen

281

A. Schadensbegriff der Geschäftsleiterhaftung

281

B. Ersatzfähigkeit von Verbandsgeldbußen

282

C. Ersatzfähigkeit des Reputationsschadens

284

D. Vorteilsausgleichung bei der Geschäftsleiterhaftung

286

E. Dogmatik und Kasuistik im Schadensrecht der Geschäftsleiterhaftung

288

Literaturverzeichnis

291

Sachverzeichnis

332