Heidegger Studies / Heidegger Studien / Etudes Heideggeriennes / Studi Heideggeriani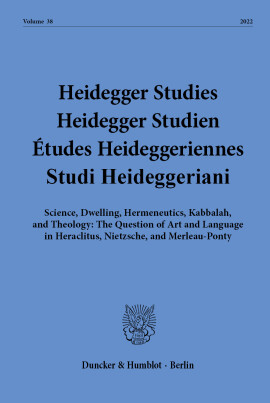 Subscribe to TOC alert
JOURNAL
Heidegger Studies / Heidegger Studien / Etudes Heideggeriennes / Studi Heideggeriani
Volumes
Additional Information
Journal Details
ISSN (Online)

2153-9170

ISSN (Print)

0885-4580

Editors

Language

Multiple

Subjects
Description
---
Volumes 1 to 35 are available under Series.
---
Heidegger Studies is an annual publication dedicated to promoting the understanding of Heidegger's thought through the interpretation of his writings. Heidegger Studies provides a forum for the thorough interpretation of the whole of Heidegger's work (including works published during his lifetime) that is called for by the publication of his Gesamtausgabe. In keeping with its international character, Heidegger Studies publishes articles in English German, and French.
Die Heidegger Studien sind eine einmal im Jahr erscheinende Zeitschrift, die der Förderung des Verständnisses des Heidegger'schen Denkens durch die Interpretation seiner Schriften gewidmet ist. Ihr Ziel ist, ein Forum zu bilden, das der gründlichen Interpretation des ganzen Werkes Heideggers (einschließlich der zu seinen Lebzeiten veröffentlichten Schriften) dient. Die Existenz eines solchen Forums ist ein Erfordernis, das sich aus der fortlaufenden Veröffentlichung der Gesamtausgabe ergibt. Spannbreite und Bedeutung der erstmalig in der Gesamtausgabe erscheinenden Texte machen in der Tat eine erneute Aneignung von Heideggers Denken unumgänglich. Gemäß der Internationalität der Heidegger Studien werden in ihnen Beiträge in englischer, deutscher und französischer Sprache veröffentlicht.
Les Etudes Heideggeriennes sont une publication annuelle, consacrée à promouvoir l'entente de la pensée de Heidegger grâce à l'interprétation de ses écrits. Elles s'offrent comme lieu de débat servant à la réinterprétation de l'œvre complète de Heidegger (y compris les textes publiés de son vivant) ce qu'appelle d'ailleurs la publication en cours de l'Edition intégrale. Elles répondent ainsi à l'exigence suscitée par l'ampleur et l'importance des inédits que publie l'Edition intégrale. Les Etudes Heideggeriennes sont une revue délibérément internationale. Ce caractère s'affirme avec la publication de textes en allemand, en anglais et en français.
Most-Read Articles (of the last 12 months)