Sozialer Fortschritt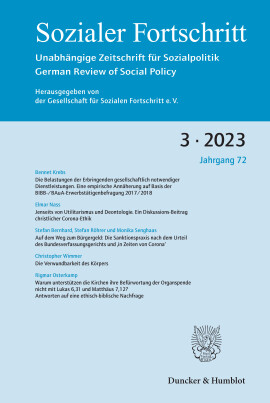 Subscribe to TOC alert
JOURNAL
Sozialer Fortschritt
Unabhängige Zeitschrift für Sozialpolitik / German Review of Social Policy
Volumes
Additional Information
Journal Details
ISSN (Online)

1865-5386

ISSN (Print)

0038-609X

Editors

Language

Multiple

Subjects
Description
German Review of Social Policy
Every month, the peer-reviewed journal Sozialer Fortschritt, the »German Review of Social Policy«, provides information, analysis, and reform proposals across the complete spectrum of social policy. It is not only the »major« topics of current debates that are critically assessed. An important objective is to address areas of social policy that would otherwise either frequently be overlooked or only be dealt with in highly specialized journals.
In contributions on current issues, Sozialer Fortschritt provides a forum for academic analyses and reform proposals that deal with the fundamental concerns of social policy and social security. In such contributions, important stimuli have been and are given to the further development of social policy. In addition to individual issues of the journal that cover a diverse range of topics, regular special issues collect together articles on selected social policy themes.
Sozialer Fortschritt offers renowned academics as well as early-career researchers a scholarly output for their findings. Moreover, under the section »Views from Practitioners«, those directly involved in social policy present their insights.
Examples of topics covered in Sozialer Fortschritt:
The regulation of minimum wages in selected EU member states.
The compulsory health insurance scheme and gender-specific characteristics of exclusion from treatments and increases in contribution rates.
Compulsory health insurance as viewed by citizens: perceptions of how burdens are shared, and the evaluation of different reform options.
Freedom and equality in social welfare.
The social market in transition: strategic areas in which social enterprises could become involved.
Most-Read Articles (of the last 12 months)